COVID-19: End of provincial mask order hardly noticeable in public on Day 1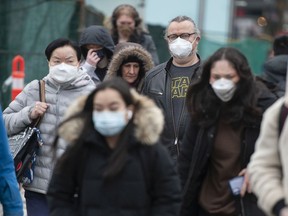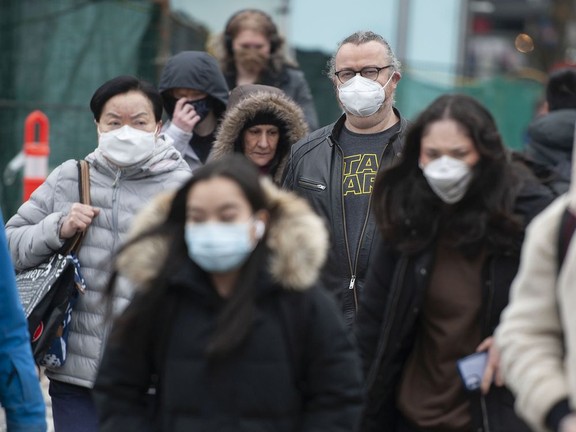 Most people remained masked on Friday — the first day after the provincial mask order was lifted — on Cambie Street at West Broadway. Photo by Jason Payne /PNG
On the first day that face masks were no longer required in B.C., one of Vancouver's busiest pedestrian intersections, the corner of Broadway and Cambie, was still flooded with masks.
Only a few Canada Line passengers emerged from the station without a mask. Looking at the prevalence of masks in restaurants, stores, businesses, buses and even on the sidewalks outdoors, it wasn't obvious the provincial health officer had declared the mask mandate largely over.
He wasn't sure if he would avoid crowded venues that don't stick by their own mandatory mask policy. "It's a tough question because it's only day one. If it's really crowded, maybe. On the way home, if it (the Canada Line) is packed, I may wear a mask."
TransLink announced masks would no longer be mandatory in its transit system but said signs may remain, as they did on Friday at the Broadway-City Hall station, until crews have had a chance to remove them.
The transition to walking around barefaced in public would also likely be gradual.