Douglas Todd: B.C. cities growing fast, for different reasons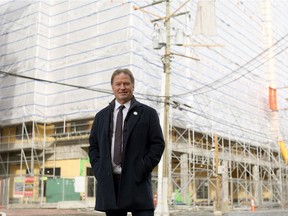 The Greater Victoria suburb of Langford grew by an astonishing 6.3 per cent in 2021. Mayor Stew Young says it's the fastest he's experienced in 32 years in office. (Photo: Friday, Jan. 21, 2022.) Photo by CHAD HIPOLITO /PNG
B.C. is beating population records during the pandemic, which is changing the migration patterns of both domestic Canadians and international newcomers.
Kelowna is now the fastest-growing city in Canada. Meanwhile, of smaller communities, the Victoria suburb of Langford is the second hottest in the land, according to new Statistics Canada data. Chilliwack is also growing rapidly and Metro Vancouver is surpassing Canada's other big cities.
These cities and town are getting more populous, however, for strikingly different reasons, all related to migration trends. And the population spikes are affecting local housing supply and prices.
Kelowna and Greater Victoria are growing mainly because people are moving there from other provinces, especially Alberta and Ontario.
And Metro Vancouver is still expanding mostly because it's popular with migrants from abroad, taking in a net 21,000 new permanent residents in 2021, despite COVID-restricted borders reducing immigration to Canada.
While most Canadian cities declined in population or were stagnant, Kelowna lead the national pack because it grew by 2.6 per cent in the year ending in June of 2021, according to data released last week.
Almost two-thirds of the newcomers to Kelowna, 3,500, came from other provinces. The proportion of international immigrants was minimal.
Meanwhile, Langford was the second fastest-growing medium-sized municipality in the country, swelling by a remarkable 6.3 per cent in 2021. It's a suburb of Victoria, where the strong majority of recent arrivals are from colder provinces.