Fast-growing Surrey can finally look forward to wielding some clout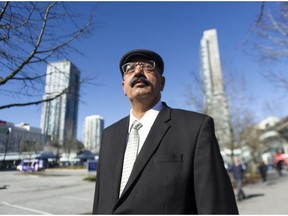 Unlike in totalitarian states democracy actually gives power to people, including those in fast-growing Surrey, says Shinder Purewal of Kwantlen Polytechnic University. Photo by Jason Payne /PNG
"The evolution of affordable luxury."
That's the marketing slogan a developer is using to sell its glistening new highrise in the vast construction zone that is Surrey Central, the would-be downtown core of the otherwise sprawling suburb of Surrey.
"It's growth. It's happening too fast," the Surrey resident said. "But it's going to happen whether I like it or not."
In 1984, I wrote a Vancouver Sun feature exploring why Surrey was the butt of jokes. Physically three times larger in size than the city of Vancouver, many then judged it to be a vast, chaotic region of ticky-tacky housing, rednecks, abandoned vehicles and problematic mayors.
It's almost unbelievable what's happened to Surrey since the Second World War, when it had only 13,000 residents, many of them farm families. By the early 1980s, it had exploded to 165,000 people. The mayor at the time, Don Ross, said it was the country's fastest-growing city.