FIRST READING: COVID's winding down, but Trudeau isn't nearly done blowing out the debt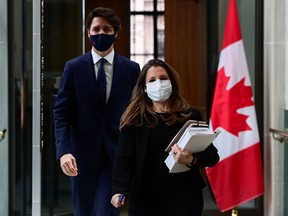 Prime Minister Justin Trudeau and Finance Minister Chrystia Freeland pictured at the time of the last federal budget. Photo by (THE CANADIAN PRESS/Sean Kilpatrick)
First Reading is a daily newsletter keeping you posted on the travails of Canadian politicos, all curated by the National Post's own Tristin Hopper. To get an early version sent direct to your inbox every Monday to Thursday at 6 p.m. ET (and 9 a.m. on Saturdays), sign up here.
There was a brief, shining moment when the Liberals were preaching a new era of fiscal discipline. The COVID-19 pandemic had resulted in the largest single peacetime increase to the debt in Canadian history, and it was now time to think about getting the books back into the black. Just before Christmas, Finance Minister Chrystia Freeland was calculating that the budget was on track to be balanced as early as 2026.
It's why, according to analysts, one of the most immediate results of the NDP/Liberal deal will be a federal government that is rather comfortable continuing to max out the fiscal credit card. Business leaders contacted by the Financial Post welcomed the prospect of three years without an election, but in the words of one, the agreement "will potentially add billions of dollars to an already unhealthy structural deficit."
The NDP/Liberal agreement expires in 2025, when federal debt servicing costs were already projected to be as high as $40 billion per year. Not only is that likely to go higher, but Canada is rapidly losing what experts call "fiscal room" should another COVID-like shock hit the economy.