FIRST READING: If Trudeau's a dictator, he's not a very good one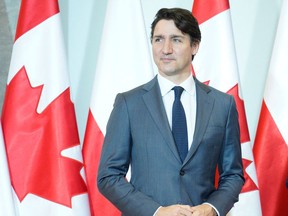 Prime Minister Justin Trudeau pictured in Warsaw, Poland on March 10. Photo by Photo by Alik KEPLICZ / AFP
First Reading is a daily newsletter keeping you posted on the travails of Canadian politicos, all curated by the National Post's own Tristin Hopper. To get an early version sent direct to your inbox every Monday to Thursday at 6 p.m. ET (and 9 a.m. on Saturdays), sign up here.
On Monday, Conservative MP Rachael Thomas implied in the House of Commons that Prime Minister Justin Trudeau is a dictator. She even whipped out the official Oxford English Dictionary definition of the word to bolster her point: A "ruler with total power over a country, typically one who has obtained control by force."
Secondly, while it's possible to argue that Trudeau has a soft spot for illiberal policy (he keeps trying to censor the internet, for instance), his power is still mostly derived through the usual means: His ability to command the confidence of the House of Commons. Consider Trudeau's February imposition of the Emergencies Act, which allowed his government to freeze the assets of Freedom Convoy organizers without judicial oversight. Say what you will about the tenuous justification for the act, but it still got greenlit by a majority vote in the House of Commons.
But it is true that Canadian prime ministers, as a rule, retain awesome amounts of personal power as compared to leaders in other Western democracies.