Five things about Travis Dermott, the newest Vancouver Canuck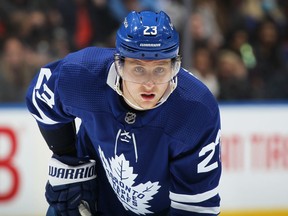 Travis Dermott #23 of the Toronto Maple Leafs waits for a faceoff against the Nashville Predators during an NHL game at Scotiabank Arena on November 16, 2021 in Toronto. Photo by Claus Andersen /PNG
Trade deadline day started early for the Vancouver Canucks, who swapped one Travis for another on Sunday.
With Travis Hamonic traded away to the Ottawa Senators, Canucks GM Patrick Allvin made another move, bringing in defenceman Travis Dermott from the Toronto Maple Leafs for a third-round draft pick in the 2022 NHL entry draft.
It's one thing to play against Connor McDavid every so often. It's another to have to practice against the superstar every day.