Fugitive B.C. gangster should be detained pending extradition hearing: U.S. Attorney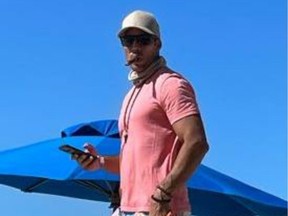 Conor D'Monte, aka Johnny Williams, on the beach in San Juan, Puerto Rico. Photo: Exclusive to Postmedia. Photo by Submitted photo /PNG
Former United Nations gang boss Conor D'Monte should be detained in Puerto Rico pending his extradition hearing on charges of murder and conspiracy, the U.S. government says in new court documents.
Asst. U.S. Attorney Julian Radzinschi said in his motion to detain the Canadian that D'Monte is both a "flight risk and a danger to the community."
Radzinschi said in his written submission filed March 11 that the violent history of the UN gang alone makes D'Monte unfit for release pending his hearing.
"The UN gang that D'Monte led had, at its height, an estimated 200 members, and was involved in the importation of firearms and other drugs, including cocaine and marijuana. It is also considered one of the most powerful gangs in British Columbia. The danger that D'Monte poses to the community, on its own, makes him an inappropriate candidate for bail," he wrote.
"Moreover, D'Monte is a flight risk. A fugitive charged with crimes in another country is already by definition in flight or deliberately absent from that jurisdiction. Here, D'Monte has been a fugitive since January 2011, when he fled Canada a few days after last being seen."