Germany girds for gas rationing, Europe on edge in Russian standoff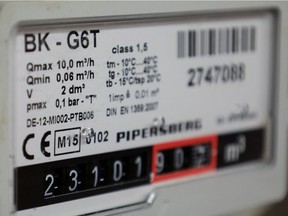 A gas meter is pictured in a private home, as Russia's invasion of Ukraine continues, in Bad Honnef near Bonn, Germany, March 30, 2022. REUTERS/Wolfgang Rattay Photo by WOLFGANG RATTAY /REUTERS
BERLIN/FRANKFURT — Germany triggered an emergency plan to manage gas supplies on Wednesday under which Europe's largest economy could ration power if a standoff over a Russian demand to pay for fuel with roubles disrupts or halts supplies.
Moscow's insistence on rouble payments for the Russian gas that meets a third of Europe's annual energy needs has galvanized others in Europe: Greece called an emergency meeting of suppliers, the Dutch government said it would urge consumers to use less gas and the French energy regulator told consumers not to panic.
Moscow is expected to make public its plans for rouble payments on Thursday, although it said it would not immediately demand that buyers pay for gas exports in the currency.
Russian President Vladimir Putin told German Chancellor Olaf Scholz by phone on Wednesday that nothing would change for European partners and payments would still be made in euros and transferred to Gazprom bank, a German spokesperson said.
Separately, Putin outlined the rouble plan in a phone call with Italian Prime Minister Mario Draghi, Draghi's office said.