Goodbye masks and vaccine card and hello long-term care visitors: A list of what COVID restrictions are being lifted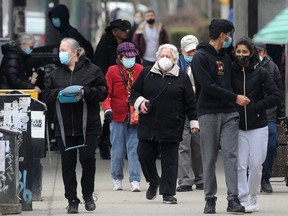 As of 12:01 a.m. Friday, British Columbians are allowed to go mask-free in most public places and attend religious gatherings with no limits. Photo by NICK PROCAYLO /PNG
On Thursday, provincial health officer Dr. Bonnie Henry said the mask mandate that so much demonstrates we are in a pandemic would begin to be lifted on Friday, and the B.C. Vaccine Card proof of entry into many indoor spaces would go the way of the Dodo bird a month later. Full visitation will soon be permitted at long-term care facilities (as long as the guest is vaccinated), faith-gathering restrictions will lift and overnight children's camps will be permitted again.
Henry said these decisions are based on the steady decline in the number of hospitalizations since the highly infectious Omicron variant took hold in late December 2021 and the province's high vaccination rate. Death rates remain constant and cases have fallen — though the government admits case data is faulty because of limited PCR testing. The government is now relying on people using rapid tests at home. The pandemic has not been officially declared over. When it is, COVID-19 will be considered an endemic disease — widespread but manageable and not the subject to strict public health orders.
What: On Aug. 25, 2021 (17 months after the pandemic was declared in B.C.) Henry declared that masks must again be worn in all indoor public places throughout the province after a spike in cases. This included people aged 12 and over, regardless of vaccination status, and was later extended to include children five and over in schools.
When: The mask mandate will be repealed in two phases.
Phase 1 begins on Friday March 11 at 12:01 a.m. and applies to almost all indoor public settings, including pubs, cafés, restaurants, nightclubs, libraries and community centres.