Hastings Racecourse benefactor and industry leader Glen Todd dies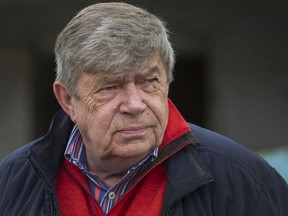 Glen Todd, a longtime advocate for the B.C. thoroughbred racing industry, has died. Photo by Arlen Redekop /Vancouver Sun
Glen Todd, a longtime advocate for the thoroughbred racing industry, has died.
Todd died Saturday, according to a message shared over the weekend on the Hastings Racecourse Facebook page.
"People were getting desperate, we were going to have to lay all these people off, they had no where to go with their horses," said Todd, who was the owner-trainer of North American Thoroughbred Horse Co.
Approximately 700 staff are employed through the racing season and some 50 to 60 staff with specialized skills live with, and care for, the horses, at the racetrack.
At the time, Todd said he wasn't looking for acknowledgment or accolades, just that he wanted to keep jobs in place and horses running.