Hollywood stars call for Royal Bank to stop financing Coastal GasLink pipeline through northern B.C.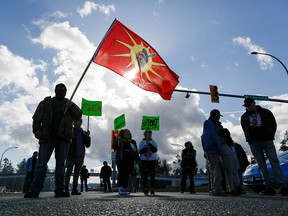 Supporters of the Wet'suwet'en Nation's hereditary chiefs block the Pat Bay Highway as part of protests against the Coastal GasLink pipeline in February 2020. Photo by Kevin Light /REUTERS
Actor Mark Ruffalo is leading a constellation of Hollywood stars calling for the Royal Bank of Canada to divest from the Coastal GasLink natural gas pipeline through northern British Columbia.
Ruffalo and more than six dozen actors, musicians and others in the entertainment industry signed an open letter to RBC urging them to drop their financial support for the project, which they say infringes the rights of the Wet'suwet'en people.
Elected leaders are chosen by members of the community under provisions of the Indian Act.
Ruffalo has a history of support for Indigenous groups opposed to fossil fuel development, including an ultimately unsuccessful campaign against the Dakota Access pipeline in 2016.
In the video, Sleydo' (Molly Wickham) — a spokesperson for the pipeline protesters who has been arrested at the Indigenous-led blockades — says Coastal GasLink "is racing to complete drilling to micro-tunnel under the Wedzin Kwa without the consent of the hereditary chiefs.