Ian Mulgrew: B.C.'s broken policing system a boondoggle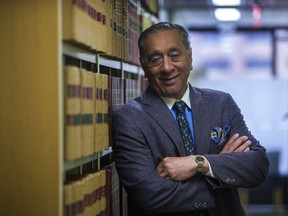 In 1994 then-B.C. Supreme Court justice Wally Oppal (pictured in 2015) conducted an inquiry into the province's policing system and recommended broad reforms to the NDP government then in power, but they were mostly ignored. Photo by Arlen Redekop /PNG files
B.C.'s dysfunctional patchwork policing system has little accountability, makes a mockery of oversight and raises serious issues about the quality of service provided to different communities and equity.
Even the government admits the half-century-old Police Act and the status quo are unsustainable — significant modernization and sweeping changes are needed.
Police training is not standardized in B.C., though other provinces have specified training academies linked to the education system to create an evidence-based culture and ensure consistency.
Despite the incessant gang war in the province, there is no federal strategy and the provincial Organized Crime Agency is a junior partner in the RCMP-led Combined Forces Special Enforcement Unit, whose members can be deployed on other duties.
According to the province, taxpayers paid in 2018 about $1.96 billion or roughly $393 a person for policing: Local governments $1.31 billion, the province $408 million and the feds $246 million.