'It shouldn't be this hard': Vancouver rents have jumped 23 per cent since last year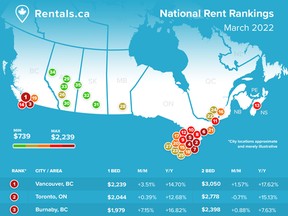 Rent prices in Vancouver are the highest in Canada, according to the latest report from Rentals.ca, an online rental agency. Photo by Rentals.ca
Tyler Kelly and Shayla Desjarlais combined their incomes in November to look for an affordable one-bedroom suite to rent in Metro Vancouver.
The couple, who each receive about $1,400 in government assistance each month due to disabilities, are willing to pay roughly that amount for a permanent place to live. So far they've not had any luck.
The average rental price for an apartment in Vancouver jumped 23 per cent since last year, the largest increase of any Canadian city, according to the latest report from Rentals.ca, an online rental agency.
The jump kept Vancouver ahead of Toronto as the most expensive city in Canada for renters, with two-bedroom rentals averaging $3,000 per month — an increase of more than 17 per cent compared to the same period last year. The average rent for a one-bedroom rental was just over $2,200.