Kamloops gas thieves drilling holes in truck tanks to steal pricey commodity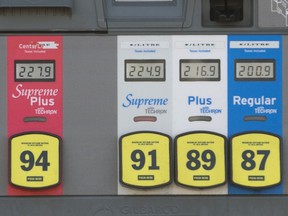 Your eyes do not deceive; this is a filling station in North Vancouver selling gas at more than $2 a litre. Thieves are stealing gas from the tanks of trucks in Kamloops. Photo by Taehoon Kim/Bloomberg
KAMLOOPS — The skyrocketing price of gas has thieves targeting the liquid gold in truck tanks.
In the past two weeks, Kamloops RCMP have been investigating at least four incidents in which thieves have drilled holes in gas tanks of trucks to empty them of the petrol.
"It's really important for people to be good neighbours and watch for any suspicious activity in their communities. If you see something suspicious, please call police (at 250-828-3000), but also try to capture as much information about the suspects as possible, such as their licence plate or description."
Although a locked gas cap won't prevent someone from drilling into a gas tank, Evelyn said it could help keep fuel safe in vehicles that sit closer to the ground and are harder to get under.
"Parking in a secured, well-lit area, such as a garage or fenced enclosure can also be helpful for theft prevention," said Cpl. Dana Napier of the Kamloops RCMP's community policing unit. "If you must park on the street, avoid dark and isolated areas. The more visible your vehicle, the better."