Killers dumped vehicle in North Vancouver after fatal shooting: IHIT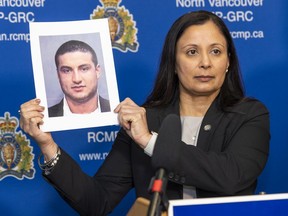 Det.-Cpl. Sukhi Dhesi holds up a photo of Milad Rahimi, 34. Rahimi, who had gang links, was the victim of a public shooting in a supermarket parking lot in North Vancouver on Friday, March 11, 2022.  Photo by Francis Georgian /PNG
Homicide investigators have released video showing two suspected murderers walking calmly away from a dark blue Mazda they parked in North Vancouver after the fatal shooting of gangster Milad Rahimi on Friday afternoon.
The two are wearing black jackets and medical masks. One stops to tie his shoe a short distance away from the Mazda, which was parked in the 300-block of Tempe Crescent about six kilometres from where the murder happened.
Dhesi described the driver of the stolen Mazda "as wearing the following: a black hoodie, grey pants with either patchwork or a torn pattern, black shoes, wearing a medical mask and carrying a grey backpack with a single strap."
She said "the passenger exiting the Mazda 3 is described as wearing a three-quarter length black jacket with a hood. The jacket at a very distinct white symbol on the left shoulder, grey pants, and black shoes."
Anyone who saw the pair either Friday around the time of the shooting or Saturday when the vehicle was set on fire is asked to contact investigators at 1-877-551-4448 or ihit[email protected].