Kim Kardashian wants to launch her own law firm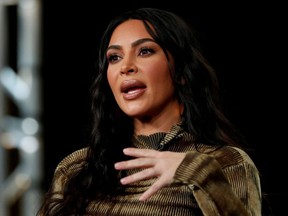 Kim Kardashian attends a panel for the documentary "Kim Kardashian West: The Justice Project" during the Winter Television Critics Association Press Tour in Pasadena, Calif., Jan. 18, 2020. Photo by Mario Anzuoni /REUTERS / FILES
Kim Kardashian wants to start a "successful" law firm.
The Kardashians star passed the "baby bar" – which is officially known as the First-Year Law Students' Examination – in December and admitted she has "never worked so hard" on anything but it was worthwhile because she wants to continue following her passion for criminal justice reform.
"Doing this work has been in my soul for years and I'm so proud that I'm now doing this work. When I look back at old interviews, when people asked what I wanted to do if I wasn't filming KUWTK, I always said I wanted to be a crime scene investigator or an attorney.
"Being in this line of work has definitely made me feel closer to my dad and to know that I'm helping people feels really good at the end of the day."
Kim – who has children North, eight, Saint, six, Chicago, four, and Psalm, two, with ex-husband Kanye West – reflected on how her outlook has changed over the years.