Mortgage industry urges Ottawa to tackle housing affordability, takes aim at homebuyer incentive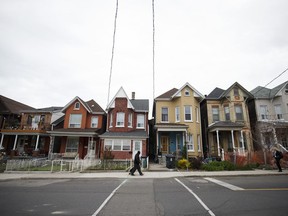 Pedestrians pass in front of houses in Toronto. Photo by Cole Burston/Bloomberg
Mortgage Professionals Canada took to Ottawa on Monday morning, taking aim at federal policies it says have failed to address Canada's housing affordability problem and urging policy-makers to consider the group's recommendations.
The organization, which represents mortgage professionals across Canada, is calling on politicians to implement the Liberal party's campaign pledge of increasing the insured mortgage cut-off from $1 million to $1.25 million, and tying the metric with inflation to keep up with today's home prices. It also wants first-time homebuyers to have access to mortgage terms of up to 30 years for insured mortgages.
"As most Canadians know, valuations have only increased since the average townhouse in the very urban centres in Canada are well over a million dollars today," Pinheiro said. "For a young growing family – especially ones trying to do it themselves – to amass $200,000 or $250,000 to qualify for the space they need is a huge task."
The organization also criticized the First-Time Home Buyers Incentive program, a shared equity program launched in September 2019 that offers five per cent towards the down payment for a first-time buyer's purchase of an existing resale home, or 10 per cent for a newly constructed home.
"The government's well-intended current First-Time Home Buyers Incentive program, whereby first-time homebuyers can obtain an equity mortgage from the government, is simply failing," said MPC vice chair Veronica Love during the news conference.