Notorious former B.C. gangster shot to death in Thailand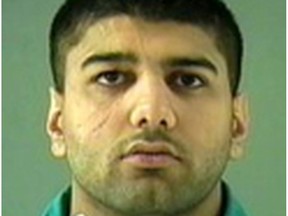 Jimi Sandhu. PROVINCE
B.C.'s anti-gang task force is working to head-off possible retaliation after a high-profile former B.C. gangster was shot to death near his beachside villa in Phuket, Thailand.
Sgt. Brenda Winpenny of the Combined Forces Special Enforcement Unit said Saturday that the slaying of UN gangster Jimi (Slice) Sandhu in Thailand could reverberate in B.C.
"CFSEU-B.C. will be utilizing all resources, sharing intelligence and developing strategies with our policing partners to mitigate any potential retribution or violence associated to his death," she said.
Despite Sandhu getting deported from Canada in 2016 for "serious criminality," the Indian-born gangster continued to have influence in B.C.
His body wasn't discovered until 6:30 the next morning. He was carrying identification in two other names, including a Canadian passport. Maj. Gen. Sermphan Sirikhong, chief of the Phuket police, told local reporters that Sandhu had arrived on Jan. 27 and was staying at the villa wing of the hotel.
A staff member at the hotel told Postmedia News that the shooting victim "owned" a villa there and was therefore not registered through the hotel's booking system.
Police were combing the grounds of the luxury compound on Saturday to gather evidence in the case, she said.
Sandhu wasn't the first B.C. gangster to be murdered abroad. Others have been killed in Argentina and Mexico. Winpenny said it's hard to escape the violence associated with gang life, even for those who leave Canada.