Omicron more severe for unvaccinated children than other strains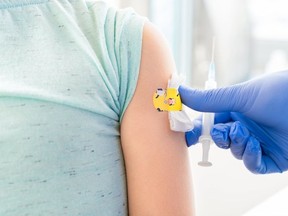 Youth vaccination. Photo by Irina Velichkina /Getty Images/iStockphoto
(Bloomberg) — The omicron variant of COVID-19 has been linked to more hospitalizations, severe complications and deaths of young children than previous waves of the virus, suggesting the highly contagious strain may not be as mild as initially thought, according to a Hong Kong-based study.
Researchers from the University of Hong Kong and Princess Margaret Hospital reviewed child hospitalizations during different stages of the pandemic. They found that cases were far more severe in the omicron wave that continues to sweep through the city in its worst outbreak of the pandemic.
Omicron results in a higher number of seizures among unvaccinated children and targets the upper airways more than previous variants and influenza, the researchers said in a preprint paper submitted to The Lancet on March 21.
"The intrinsic severity of omicron BA.2 is not mild as evident by the fatality and severe complications of the uninfected and unvaccinated children," they wrote in the paper, which hasn't been peer reviewed.
Globally, the elderly and people with pre-existing medical conditions have been most vulnerable to the virus throughout the pandemic. After a long run of keeping infection rates among the lowest in the world, Hong Kong was overrun with omicron, which has been linked to almost 7,500 deaths. The majority of those were elderly and unvaccinated.