Oscars smackdown: Will Smith slaps Chris Rock on stage for joking about wife Jada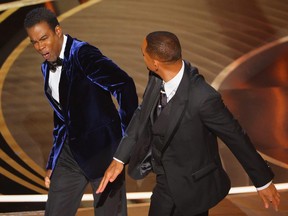 Will Smith hits Chris Rock as Rock spoke on stage during the 94th Academy Awards in Hollywood, Los Angeles, Calif., March 27, 2022. Photo by BRIAN SNYDER /Reuters
LOS ANGELES — Best actor nominee Will Smith smacked presenter Chris Rock in the face with an open hand and shouted a vulgarity at the comedian for making a joke about his wife's appearance at the Oscars ceremony on Sunday.
Rock was roasting some of the nominees and, after mentioning Smith, said of his wife, Jada Pinkett Smith, "Jada, I love you. G.I. Jane II, can't wait to see it."
Smith then repeated his phrase, louder and more deliberately.
Jada Pinkett Smith told Billboard in December she has been battling the autoimmune disorder alopecia, which can cause hair loss and balding.
The audience initially thought Smith's indignation was feigned, part of the act. It was only after he returned to his seat and shouted that the audience went silent and audibly gasped. Many people in the mezzanine stood up and craned their heads to try to catch a glimpse.