Ottawa urged to pause proposed B.C. port expansion, consider alternative plan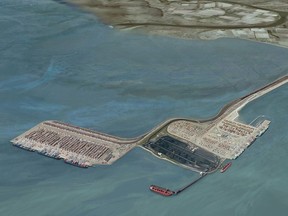 A rendering of the proposed Roberts Bank Terminal 2 project. Photo by Vancouver Fraser Port Authority
A plan to build a new shipping container terminal the size of nearly 144 football fields at a major Metro Vancouver port has sparked a rival proposal along with concerns for endangered orcas and the salmon they depend on.
The three-berth, $3 billion terminal proposed by the Vancouver Fraser Port Authority would be built next to the existing Deltaport and Westshore terminals at Roberts Bank in Delta.
Draft conditions for the project, released by the Impact Assessment Agency of Canada, show the port would be required to consult with provincial and federal government agencies and Indigenous groups to develop mitigation measures.
The deadline is Tuesday for the public to comment on the project before the federal environment minister decides whether the effects would likely be significant and refers them to cabinet to determine whether they are justified in the public interest.
At the same time, a review panel has been tasked with examining an alternative proposal to increase capacity at the port by Global Container Terminals.