Penticton flooding: State of emergency declared, another thunderstorm on the way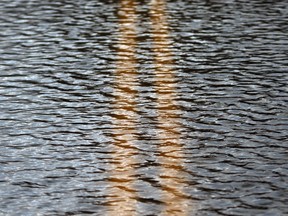 Meteorologist Doug Lundquist said there is another thunderstorm coming on Thursday that could exacerbate flooding in the Okanagan. Photo by CHAD HIPOLITO /THE CANADIAN PRESS
Heavy rain Monday afternoon in Penticton triggered 86 calls to Penticton's emergency operations centre and led to 16 people being evacuated from their homes, according to the municipality.
The damage — and expected cost to repair it — was still being assessed Tuesday, said Anthony Haddad, who serves as EOC director in addition to his regular duties as general manger of community services.
Haddad said Penticton, which declared a state of local emergency to help speed its response, seems to be the only South Okanagan community that sustained serious damage in Monday's deluge.
Doug Lundquist, a meteorologist with Environment and Climate Change Canada, said there were "severe thunderstorms" across the Okanagan on Monday and heavy rainfall, which he called a one in 10-year event.
Penticton airport recorded 12.3 millimetres, Oysoyoos had 14.1 millimetres, while Summerland had 15.7 millimetres — and all in just a couple of hours, said Lundquist.