People open their homes to Ukrainians expected to arrive in B.C. soon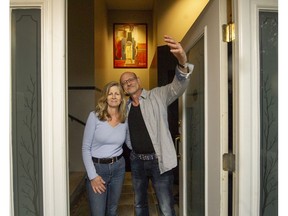 Randy Schultz and partner Sally Howard, at their front door, are prepared to welcome Ukrainian guests to their home in South Surrey, BC, March 17, 2022. Photo by Arlen Redekop /PNG
Three weeks of watching the Russian invasion of Ukraine and hearing of more than three million Ukrainians fleeing its borders impelled a Surrey couple to open their home to any that come to Metro Vancouver.
"I can't imagine people in that situation and families despairing and not knowing where they will live," said Randy Schultz, whose isn't of Ukrainian heritage but whose Dutch father was interned in a camp in Indonesia, then a Dutch colony, when it was invaded by Japan during the Second World War.
Others are signing up with UkraineTakeShelter.com, an app that hopes to pair hosts with arrivals in cities worldwide, including in B.C. It was developed by two Harvard students, Avi Schiffmann and Marco Burnstein.
Entering Vancouver brings up several full of people willing to host Ukrainians, including Brian Knox, who has two spare rooms in his Surrey home.
"It's the Lower Mainland and anyone looking for a place to stay, they're going to have a struggle," said Knox, who isn't of Ukrainian descent but grew up with many Ukrainian Canadians in Stony Plain, Alberta.