Reformed Toronto 18 terror plotter given green light to become a licensed lawyer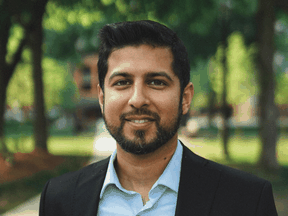 Saad Gaya has been deemed 'presently of good character' by the Law Society of Ontario, permitting him to become a licensed lawyer. Photo by St. Lawrence Barristers LLP
Citing an extraordinary transformation after his conviction as one of the Toronto 18 terrorists — serving a prison sentence, helping the RCMP address religious radicalization, completing law school — Saad Gaya was deemed "presently of good character" by the Law Society Tribunal, allowing him to become a licensed lawyer.
"Mr. Gaya's criminal conduct in 2006 was very serious criminal conduct," said the tribunal that decides disciplinary cases for the Law Society of Ontario, in its preliminary reasons in the case.
"His insight, remorse and acceptance of responsibility are clear from his testimony and from his actions, from what he has overcome and accomplished, and in the respect and support he has earned from those many people who he encountered in his lengthy and challenging path to rehabilitation."
Gaya needed to be considered "of good character" before being able to practice law in the province. A criminal conviction does not automatically prevent someone from working as a lawyer, but it does trigger an internal investigation into the applicant's conduct and character.
Gaya said he is thankful for the tribunal's confidence.