Vancouver store defends decision to fire manager who helped feed homeless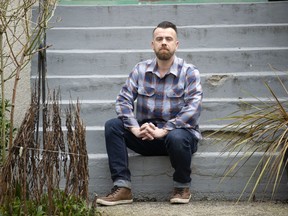 Justin Grant, pictured in Vancouver on Feb. 17, 2022, says he was fired from his job at Independent Grocers for helping homeless people in the area. The store has filed a response to Grant's lawsuit claiming that there was just cause for the termination. Photo by Mike Bell /PNG
A Vancouver grocery store is defending its decision to fire a manager who alleges he was wrongfully dismissed for helping feed the homeless.
Justin Grant filed a lawsuit in B.C. Supreme Court that levelled the allegations against the Your Independent Grocer franchise on Davie Street, where he'd been employed for nearly four years as a manager before being terminated in October.
He says that he was "absolutely devastated" when he was summoned to a meeting in October with no advanced notice of what was going to be discussed, accused of theft and terminated.
But the store has filed a response to the lawsuit claiming that there was just cause for the termination.
The store says that as an employee, Grant was subject to a theft and employee purchase policy whose primary purpose was to prevent internal theft and merchandise theft.