Vaughn Palmer: B.C. pandemic review so narrow no one could possibly, ever, be criticized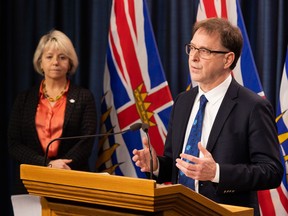 Health Minister Adrian Dix (right) and the provincial health officer, Dr. Bonnie Henry. Photo by Felipe Fittipaldi /Government of B.C.
VICTORIA — The New Democrats marked the second anniversary of the pandemic by launching what they characterized as an "independent review of the government's operational response."
But the review, announced Wednesday, was more notable for what it won't be allowed to do.
Contrast that severely constricted mandate with the wide-open terms of reference for the NDP-ordered commission of inquiry into money laundering.
Of course, the goal of that inquiry is to do maximum political damage to the previous B.C. Liberal government.
The New Democrats are more cautious when crafting inquiries that might reflect badly on their own time in government.