Vladimir Putin caught on camera unable to use right arm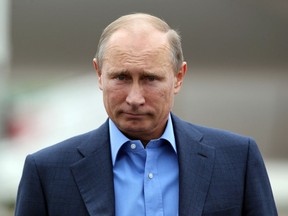 Vladimir Putin – Belfast International Airport in Belfast – JUN 13 – AVALON Bang Showbiz
Vladimir Putin appears to have lost the use of his right arm.
The focus has fallen back on the Russian president's health after footage emerged on Sunday showing him apparently unable to swat away a mosquito at his country's Navy Day event.
He continues to itch and swat around his head with one arm before walking alongside Ksenia with a limp as she continues her tour.
Putin has been rumoured to be suffering from cancer and dementia, with experts speculating his bloated face is a sign he is on steroids — sparking warnings he could be suffering "roid rage".
It was reported in March the intelligence community is sharing a growing number of reports about Putin's "increasingly erratic behaviour."