'We need emergency access': 82 Canadian professionals request psilocybin for therapy training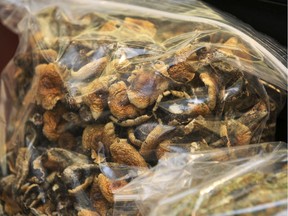 Psilocybin (magic mushrooms) Photo by Dan Janisse /The Windsor Star
About 80 health-care professionals from across the country are challenging Health Canada's decision to reject their applications to use restricted psychedelic drugs as part of training in psilocybin-assisted psychotherapy.
The professionals — including doctors, psychologists, clinical counsellors, social workers and nurses — sent affidavits to Health Canada on Monday after the federal agency issued a letter of intent to reject their requests. They sought exemptions last year to use controlled substances in their practices under a section of the Canadian Drugs and Substances Act that allows for exceptions.
Psychedelic-assisted therapy involves ingesting consciousness-altering substances — including psilocybin, ketamine, LSD or MDMA (the active ingredient in ecstasy) — in a clinical setting as part of more traditional psychotherapy.
Hawkswell said hundreds of Canadians inquire about it every year because they are in palliative care, have become treatment-resistant or are struggling with end-of-life distress. Others ask for the substances to treat their anxiety, depression, post-traumatic stress disorder or other illnesses.
"There are only three practitioners on TheraPsil's roster … that are authorized to act as primary therapists and have undergone experiential training," says the affidavit filed by TheraPsil's lawyer Nicholas Pope. "Trained practitioners are clustered in only a few areas of Canada making them practically inaccessible to patients outside the local vicinity."