What a Bank of Canada rate hike could mean for mortgages and the housing market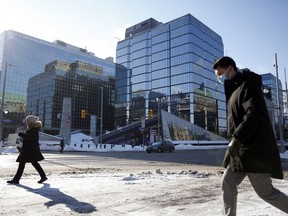 The Bank of Canada building in Ottawa on Jan. 25, 2022. Photo by David Kawai/Bloomberg
The era of ultra-low pandemic interest rates, which has helped drive Canadian home prices to all-time highs, may be coming to end.
Many economists anticipate that the Bank of Canada will begin hiking its benchmark overnight rate as early as today, ushering in a pricier borrowing environment with potential implications for heavily indebted Canadians and the red-hot housing market.
Just how significant of an effect higher rates will have will depend on how quickly the central bank moves.
When the Bank of Canada raises the overnight rate, the prime rate banks use to lend will increase by the same amount.
"For prospective prime borrowers, discounted five-year fixed rates would have to jump over 36 basis points for borrowers to start facing qualification challenges. And it would only be an issue for more highly indebted mortgage applicants (I'd estimate roughly 1 in 5 mortgage applicants)," McLister wrote in an e-mail.
James Laird, co-founder of rate comparison site Ratehub.ca, also pointed to an immediate impact on variable rate holders.
"Their mortgage rate will increase, which will cause their mortgage payment to increase in February," Laird said in a recent report.
The report further broke down the numbers, using an example of a homeowner who put 10 per cent down on a $700,000 home, close to the national average recently calculated  by the Canadian Real Estate Association, with a five-year variable rate of 0.85 per cent over 25 years. The total mortgage would come to $649,530 with a monthly payment of $2,404.