What it means to be middle class in Moscow now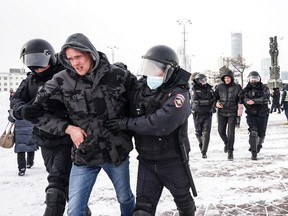 A person is detained during an anti-war protest, following Russia's invasion of Ukraine, in Yekaterinburg, Russia March 6, 2022. Photo by Handout via REUTERS
For millions of Russians who liked to think they lived in a stable, middle-class world, that belief has disappeared in the wake of Vladimir Putin's savage invasion of Ukraine.
"The hipster bars we went to, the holidays we took in Europe, the idea that we could live a normal life, even in a messed up country – that was all an illusion," says Valentina, 44, who works for a Moscow literary magazine. Like most of the people talking to me today, she feared for her freedom if identified.
For the first time since the last days of the Soviet Union, what was effectively a black market in hard-to-obtain hard currency sprang up, with one exchange office off Moscow's New Arbat quoting 300 roubles to the euro, against an official exchange rate of 145.
Then the bank cards went. As Swift, the international payment system, disconnected 80 per cent of Russian banks, people desperately trying to buy tickets with foreign airlines found their cards disabled, and Russians abroad were stranded.
"I laughed at my friends when they said I should open an account in Riga [Latvia] a few months ago," said Svetlana T, 38, a manager at a Moscow furniture import business who is now stuck in Milan, unable to pay for her hotel room with any of her Sberbank or VTB-issued cards.