Why Baby Boomers are breaking the real estate market in Canada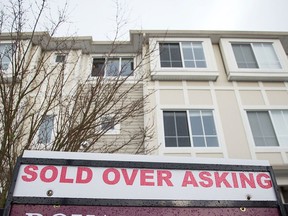 It's a lack of supply, not investors, that has resulted in Canada's housing crisis, writes Ginny Roth. Municipal politicians are exacerbating the situation by opposing densification, she says. Photo by Ben Nelms/Bloomberg
A new real estate report says Canada's record-low supply of real estate is being compounded by an emerging trend: Baby Boomers who won't let go of their homes.
The tight real estate market is one of biggest factors in the sky-high housing prices in most of Canada's major cities. And it appears the real-estate wealthy Boomers are to blame for yet again disrupting markets.
Traditionally, seniors sell their family homes and downsize or move into retirement communities. Born between 1946 and 1964, Boomers, who own a substantial share of Canadian real estate, are breaking that trend. They are aging in place.
More than 20 per cent of Canada's population will be 65 within the next five years. Many Boomers are still working and they are healthier than previous generations, so they aren't yet ready to move into retirement communities or nursing homes.
"Baby Boomer's parents currently live in long-term care facilities, so they have witnessed their parents living in isolation as facilities put a halt to visits and residents typically had to stay in their rooms. As a result, Engel & Völkers advisors are reporting that clients who would typically be ready to downsize are increasingly delaying," says Anthony Hitt, CEO, Engel & Völkers Americas
Hitt says there are a couple of pandemic-related reasons for Boomers to put off moving: "First, they are wary of long-term care facilities and second, they are increasingly valuing the size of their homes during lockdowns."