Why this rundown Vancouver bungalow is listed for $11 million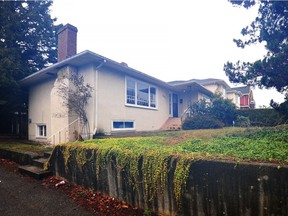 The house at 481 West 40th Ave. in Vancouver is assessed at $3.9 million, but is being listed for sale at $11 million. Photo by NICK PROCAYLO /PNG
A new real estate listing for a rundown Vancouver bungalow has some observers chattering over its dizzying asking price of $11 million.
The four-bedroom, two-bathroom old-timer is currently assessed at $3.866 million.
The property is not on a busy arterial, but is just one block from the corner of West 41st Avenue and Cambie Street, across from the Oakridge Centre redevelopment.
These "inner streets" are a new frontier of sorts, and there may be more of these asking prices as sellers target developers who have long-term plans to build condos, say experts.
Investors did the same in previous phases of developing the Cambie Corridor, when single-family homes along Cambie Street and King Edward were sometimes sold for more than double their assessed value.
"For anyone in the real estate industry, it's not surprising," said Jacky Chan, president of BakerWest Real Estate, which markets pre-construction property developments.
The 2018 Cambie Corridor Phase 3 Plan indicates that "the overall concept plan" includes building heights of 13-storeys or higher for this location. Another more detailed document that was described as a proposed plan in March 2018 gave specific housing options, showing that 15-storey and 18-storey towers could be possible for the area if they are 100-per-cent secured rental with 20 per cent below market rental units.