$5 peppers and $40 steaks: Why food prices are up and tips to bring bills down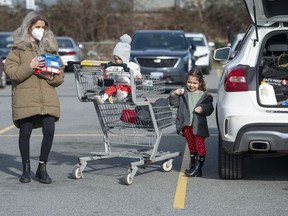 Mandy Alves and her children Isla, 3, and Nina, 14-months, after finishing grocery shopping. Photo by Jason Payne /PNG
Mandy Alves, like most British Columbians these days, is more cautious while grocery shopping. She buys regular milk instead of organic, cheaper cuts of meat, and basic types of lettuce instead of the more expensive varieties.
Rising food prices are hitting people hard, at a time when the prices of everything are rising, including mortgage interest rates and gas prices.
"I'm definitely more cautious and trying to be a bit smarter," she said, as she loaded groceries into her car at a Vancouver grocery store.
A Leger poll for Postmedia found nearly three-quarters of B.C. households are spending more on food than last year and those with children reported the biggest rise at almost 80 per cent.
One-third of British Columbians are struggling to pay those higher grocery bills, with the most pain felt by renters, people with incomes below $40,000, and those between 35 and 54.