7 of the best US natural wonders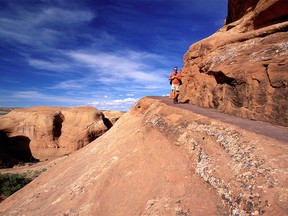 Footloose in Arches National Park. Photo by Andrew Marshall
As far as unbelievable natural and historical wonders go, the United States of America packs them in.
An amazing system of national parks, national monuments and historical parks preserve an unrivalled beauty and diversity of environments and truly stunning landscapes, and nowhere is the concentration of parks greater than in the Southwest. 
A 5-km return trail leads to the park's main draw that appears on every Utah car number plate and in countless American television commercials – Delicate Arch. Straddling a ridge of glowing-red sandstone between an ancient pothole and a sheer cliff face, with panoramic views to the east over the snow-capped La Sal Mountains, Delicate Arch framed in the sweeping span of Frame Arch has the power of presence to stop you in your tracks. 
MONUMENTS TO MANKIND
Spanning the Arizona-Utah border, magnificent Monument Valley Navajo Tribal Park has attracted movie makers ever since John Ford first directed the John Wayne western Stagecoach here in the late 1930s.