Alberta to start lifting COVID restrictions, including vaccine passport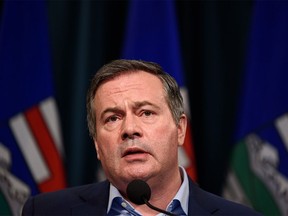 Premier Jason Kenney. Photo by Azin Ghaffari /Postmedia, file
EDMONTON — Premier Jason Kenney says Alberta's vaccine passport will end almost immediately, with most other big COVID-19 health rules gone three weeks later.
Kenney told a news conference Tuesday that the vaccine passport, known in Alberta as the restriction exemption program, would end within hours — at midnight.
"Given the very low threat that COVID-19 poses to the health of children, it is no longer justifiable after two long years to continue to disrupt and restrict the normal lives of kids," said Kenney.
As he was speaking, Education Minister Adriana LaGrange issued a public letter informing school boards they don't have the power to override the directive and order students to wear masks in school or on school buses.
Adults, including teachers and bus drivers, will continue to wear masks for the time being, said LaGrange.