Australia reopens to the world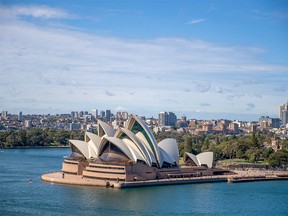 Sydney is best known for its harbourfront Sydney Opera House and Sydney Harbour Bridge. Photo by Cultural Attractions of Australia
To welcome the first international flights back since Australia lifted its Covid-19 travel ban, Sydney decided to throw us a party.
The arrivals hall was packed with jubilant, kangaroo costume-clad teenagers handing out Waratah flowers, stuffed koala toys and yellow jars of Vegemite to bewildered passengers. Tourism Minister Dan Tehan was on hand to welcome the world back to Oz as a DJ spun and local TV news crews captured joyful reunions and interviewed passengers about how it feels to be back in 'Straya.'
I boarded a private Sydney Harbour yacht cruise offered by Eastsail. As we departed from the Darling Point Marina and traced the contours of one of the world's most spectacular natural harbours, we cruised pass landmarks like the Sydney Opera House and Sydney Harbour Bridge, Fort Denison and ​​Cockatoo Island, one of Australia's UNESCO's World Heritage convict sites.
We continued past the opulent homes and sandy beaches of waterfront suburbs like Balmain and Point Piper before approaching the historic Barrenjoey Head Lighthouse, where Sydney Harbour meets the sea.