B.C. couple wins compensation after honeymoon flight abruptly cancelled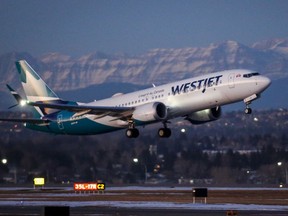 Airline Passenger Protection Regulations, which came into being in 2019, helped the B.C. couple receive compensation for inconvenience and expenses they paid when WestJet cancelled their flight. Photo by Jeff McIntosh /The Canadian Press
A Burnaby couple whose Jamaican honeymoon flight was cancelled at the last minute by WestJet have been compensated under a little-known federal passenger rights regulation, and an advocate says it should serve as an example for other passengers whose flights are delayed or cancelled.
Ryan Alguire said he and his wife felt cheated out of two days of their trip to Montego Bay in August when WestJet delayed their departure for 48 hours citing a staff shortage. They had to cancel the WestJet flight and rebook on Air Canada, leaving the next day.
What irked Alguire most was WestJet didn't notify them of the cancellation before they learned about it by checking online on the way to the airport. He thought, "this can't be for real."
He found the Air Passenger Rights (Canada) Facebook page, where he learned Canada safeguards rights for air passengers with the Airline Passenger Protection Regulations, passed in 2019.
These two rights under the APPR are "probably the least known and least obeyed rights of passengers," said Gabor Lukacs, founder and president of the Air Passenger Rights (Canada) group.
"Airlines try to blame the cancellations on COVID — these cancellations relate to poor staffing and hiring decisions, which are within the carrier's control," he said in an email. "They are not aviation-safety related"  — such as an oil leak — therefore not necessarily outside of an airline's control.
Passengers should know their rights — which are rooted in common law and Canadian and provincial legislation — and know how to pursue them, said Lukacs.
"Ryan's story shows that standing your ground, buying a ticket on another airline, and then forcing the original airline to pay up is the way to go," he said. He said WestJet should have rebooked the couple on the Air Canada flight at the time.