B.C. family among many whose holiday plans thwarted by flight cancellations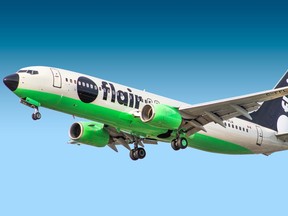 Flair Airlines is a low-cost Canadian airline. Photo by Flair Airlines /flyfair.com
Brian Shields was packed and ready for his family's first Christmas in Vancouver when he opened his phone Thursday to find out their flight was cancelled last minute.
"We were settling into bed before our morning departure when all of our planning, testing and quarantining became for nought," said the 44-year-old lawyer, who grew up in Vancouver but now lives in San Diego with his wife, Ashley, and two-year-old daughter, Sierra.
The news came as more than 800 holiday weekend flights from U.S. air carriers were called off due to surging COVID-19 infections and the prospects of inclement weather.
Shields hasn't seen his mother or father in person since the COVID-19 pandemic took hold two years ago. The generations of the family stayed a country apart due to the risk the virus presented to his ailing parents.
"We were looking forward to Sierra finally getting to spend some time with her grandparents. My mother has an advanced case of Alzheimer's and doesn't remember the last time she saw her. My father just had emergency surgery for skin cancer. We don't know what other chance we'll have."
"We are pretty sad," said Shields, who was granted a full refund from Flair Airlines. Part of the reason Shields booked the trip — purchasing and taking antigen and polymerase chain reaction or PCR tests in advance — was to secure in-home care for his parents upon landing in Vancouver.
A spokesperson for Flair Airlines was unable to disclose to Postmedia why Shields' flight to Vancouver was cancelled.
Jamina Kotak said the majority of Friday's cancellations, of which there were 31 listed on the Edmonton-based airline's website originating from U.S. and Canadian cities, were due to a combination of factors.