B.C. forest industry bracing for impact of old-growth timber crunch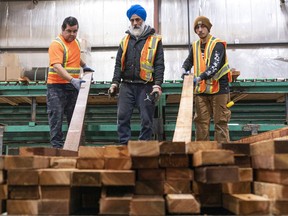 Mill workers sorts and stacks pieces of lumber at the PowerWood mill in Agassiz. Photo by RICHARD LAM /PNG
Second-generation entrepreneur Jake Power believes in the province's vision for a value-added future for British Columbia's forestry industry, but needs to get past the problem of where the timber for his specialty mill in Agassiz is going to come from.
Timber for the operation, which he and his partners invested $26 million in relocating from Surrey in 2019, has become increasingly scarce and expensive due to a confluence of events including government's announcement last fall on logging deferrals in 2,600 square kilometres of critical old-growth forests.
He's had hints May might be better, but "if June, July and August are all 10 per cent, that's pretty dire," Power said. "We've got 40-plus families to feed and 10 per cent of normal supply won't feed those families."
And looming timber shortages are coming at a time when PowerWood has been incredibly busy, said 37-year-old Darryl Logan, one of PowerWood's key equipment operators and lumber graders.
"Western red cedar is a hot commodity," said Logan, a seven-year PowerWood employee looking forward to getting married in September.