B.C. introduces new regulations aimed at curbing catalytic converter thefts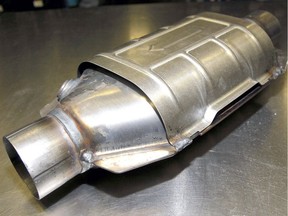 B.C. is announcing new regulations aimed at curbing the sale of stolen catalytic converters. Brendan Miller/Postmedia
B.C. is announcing new regulations aimed at curbing the sale of stolen catalytic converters.
A change made to the province's rules on dealing in and recycling metal now requires dealers to report each transaction involving a catalytic converter, including information about the seller, to police on the same day the sale was made.
The metals in catalytic converters were not previously listed as regulated metals under the act, leaving a loophole that had been exploited in recent years.
Scrap dealers can pay up to $1,000 for a catalytic converter, which contains just a gram or two of rhodium, one of earth's most precious metals.
Thefts of the emission-control units have multiplied in the province over the past four years, from 89 in 2017 up to 1,953 in 2021. According to ICBC, claim costs for catalytic converters also rose during that period, from $356,950 in 2017 to $4,059,081 in 2021.