Checking In: The Opus Hotel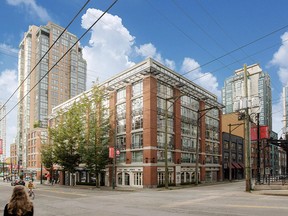 Celebrating 20 years this year, the Opus Hotel is a Yaletown landmark and an ideal base of operations for a weekend staycation. Photo by Opus Hotel
One of my favourite things about an overnight hotel stay is having a leisurely breakfast and watching as the neighbourhood comes to life. Just as cycling through the country reveals much more about a place than whizzing past in a car does, much is revealed about a locale when you watch it wake up for another day.
I was reminded of this in an unlikely place recently during a staycation at the Opus Hotel in the downtown Vancouver neighbourhood of Yaletown. I say unlikely as the 12-block historic district is not unfamiliar to me. I've dined and shopped there for many years. But as I sat at a window table in the hotel's Capo restaurant, I came to appreciate that Yaletown is not just a shopping district or tourist destination; it is home to many, and on this particular Sunday morning the dog walkers were out, young couples were pushing prams to the park, friendly lines formed at bus stops and friends were meeting up with friends for their own café breakfasts.
Add this new-found appreciation as another reason why a staycation — the tourist-in-your-own-town thing — is such a rich and rewarding getaway. Just getting out of the house for a night or two is welcome relief enough these days, as is not having to cook meals or clean up. But to come to look upon a place in a different way after so many years only adds to your personal understanding your city.
The Opus Hotel, which is celebrating its 20 th anniversary this year, was the first true boutique hotel in Vancouver and is defined by an artistic flare in design and atmosphere, with bold guest room colours and a funky vibe that has made the Opus a favourite of visiting celebrities for two decades. And, as noted, its location is perfect.
"Yaletown is one of a kind in Vancouver relative to the business district and the water district," notes Opus general manager Sarah Vallely. "It really is where the heart of Vancouver lies."
Like many downtown hotels, the Opus was closed for a number of months in 2020 and 2021 due to virtually non-existent international travel but reopened in September of last year. The new in-house restaurant and lounge — Capo and Spritz — opened in September of 2020 and have been operating ever since, providing Yaletown with an authentic New York pizzeria with a great wine menu.