Construction giant sues Metro Vancouver for $250 million over North Shore sewage plant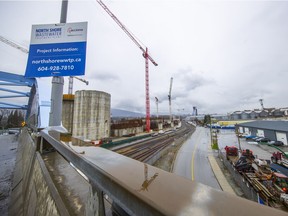 Construction on the new North Shore sewage plant is still stalled. Photo by Francis Georgian /PNG
Responsibility for delays and cost overruns on construction of Metro Vancouver's now $1-billion North Shore wastewater treatment plant will be decided by the courts.
Metro's original contractor, Spanish construction giant Acciona, filed a $250-million lawsuit in B.C. Supreme Court on Thursday. Acciona alleges it was wrongfully terminated from the project by Metro Vancouver, which is now working with a new contractor to complete the facility
Metro's chief administrative officer, Jerry Dobrovolny, said Thursday the regional district "is confident that its decision to terminate was justified."
"Metro Vancouver will defend against Acciona's claims, including the unfounded allegations of misconduct," Dobrovolny said in a statement.
Acciona's allegations have not been proven in court and Metro Vancouver has not filed a response.