COVID-19 deaths rising, hospitalizations still high as B.C. restrictions up for review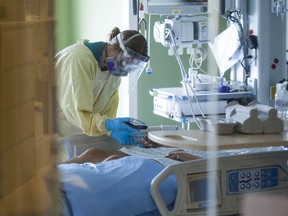 The number of people in B.C. hospitals has dipped this week, down to 946 last Friday from a high of 1,048 just days before on Monday. The numbers are well above the previous highs in spring 2020. Photo by Jason Payne/File /PNG
Stubbornly high hospitalization numbers and a steep increase in the number of deaths has clouded the possibility that COVID-19 restrictions might be lifted by mid-February.
A review of remaining restrictions — which includes a ban on organized gatherings such as wedding and funeral receptions — is slated for Feb. 15.
"We're at the highest levels of hospitalization that we've had. It's not a time to open up that much," says University of B.C. epidemiologist Sarah Otto.
Although data provided by B.C. health officials last week show hospitalizations on a slight downward trend, they remain at their highest level during the two-year-old pandemic as the highly transmissible Omicron variant has surged. The latest B.C. Centre for Disease Control information available indicates that nearly 99 per cent of new cases are from Omicron.
However, a record high number of cases means there will be high numbers of hospitalizations, health officials say.
Otto, a zoologist who specializes in mathematical modelling, said there are also some uncertainties in the COVID picture that make it difficult to draw conclusions, including that there are two Omicron variants circulating, called BA.1, and BA.2, but with little data on which is driving cases in B.C.
Preliminary data out of the U.K. shows that BA.2 may provide a higher viral load and spread more easily within households, noted Otto.
"One of the things that we don't know is whether a BA.1 infection provides enough immunity to BA.2. So maybe some of what we're seeing is people being reinfected with Omicron," said Otto.