Dan Fumano: Union pitches Burnaby project as 'game-changer' for affordable housing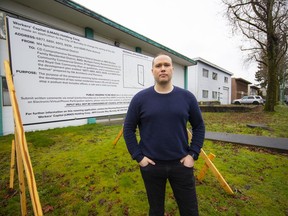 BCGEU treasurer Paul Finch. One of B.C.'s biggest unions is trying to advance a large-scale development in Burnaby that includes offices, child care and almost 300 rental homes — half of which would be secured at below-market rents. Photo by Francis Georgian /PNG
One of B.C.'s biggest unions is trying to advance a large-scale development in Burnaby that includes offices, child care and almost 300 rental homes — half of which would be secured at below-market rents.
The project from the B.C. General Employees Union is significant on its own, but its proponents say it could set an example for affordable housing development around B.C. and perhaps beyond.
But in the "model" Finch describes, the union is acting as a developer and, if they get Burnaby council's approval later this month, they plan to take that "significant value uplift" and instead of putting it into profit margins, use it to produce more affordable rental homes.
"I want to be clear here: we're going to come out in the black on this project," Finch said. "The BCGEU is not going to subsidize these affordable rents — the affordable rents are being created by the land lift from the up-zoning."
The BCGEU bought up five lots along Palm Avenue one block from the Royal Oak SkyTrain Station, between December 2019 and February 2020 for a combined $20.6 million, the Burnaby Now reported last year. The lots, currently occupied by two-storey warehouse type buildings, are in a light industrial area, with blocks of low-density detached nearby. The proposed development would include two towers, of 20 and 15 storeys, with office space for the union, a 49-unit child care centre and 292 rental homes, at least half of which would be secured at below-market affordable rents.