Daphne Bramham: Canada's broken system punishes high-skilled immigrants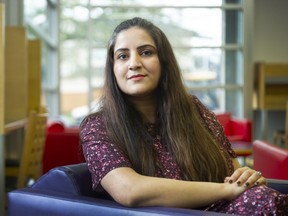 Dr. Mariam Tariq in Vancouver on March 22. Photo by Arlen Redekop /PNG
Early last Friday, Mariam Tariq, a couple of friends in Toronto and her mother in Pakistan were ready at their computers waiting for the moment that registration opened to get her seat to write the first of three National Dental Examining Board of Canada exams in August.
Tariq managed to get a place on the waiting list. So, she'll have to keep studying hard … just in case.
It can take up to five years or more to qualify and some simply give up and move on to something or somewhere else.
Tariq had been a lecturer in pediatric dentistry at the government-run Ayub College in Abbottabad and presented papers at international dental conventions including in the U.S.
She came here on the fast-track-to-permanent-residency under Canada's Express Entry program that favours people whose skills are badly needed.