Daughter fights to keep mother's 'cold-blooded' killer behind bars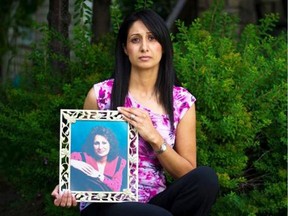 Rupy Sidhu holds a photo of her mother outside her Alberta home. Photo by Tijana Martin /Calgary Herald
Every time Rupy Sidhu sees a letter from the Correctional Service of Canada in the mail, her stomach tightens.
She knows it will be news about one of the three men convicted of killing her mom, Baljit Kaur Kondolay, on April 19, 1998.
Sidhu is opposing the release and has started a petition to get support for her family's position.
Her mom married Grewall's dad Ajit just months before the older man plotted to kill his new wife and weeks before he pressured Kondolay to change her will and make him the sole beneficiary.
The 37-year-old mom of two girls had no idea that Ajit had never divorced his first wife. Nor did she know of his deep financial troubles. Even after her murder, he filed several lawsuits against her family in an attempt to keep her assets.