Delta police chief and wife sued over alleged garden hose assault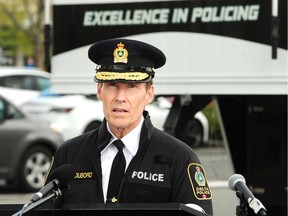 Delta Police Chief Neil Dubord in May 2021. Photo by NICK PROCAYLO /PNG
Delta Police Chief Neil Dubord and his wife are being sued by a woman who alleges she was assaulted when she was sprayed with a garden hose on their property.
At the time of the June 2020 incident, Kirnjeet Kaur Sidhu had been making her way along Centennial Beach back to her car after a socially distanced picnic with friends.
Sidhu filed a complaint with police but following an investigation the B.C. Prosecution Service announced that no charges would be laid. The prosecution service said the matter had been referred to B.C. Corrections for consideration of an alternative measures resolution. Under the terms of such an arrangement, if a person alleged to have committed an offence completes an alternative measures agreement, there would be no prosecution.
The fact that no criminal charges were laid was a motivating factor in Sidhu filing her civil lawsuit, says Robyn Wishart, a lawyer for Sidhu.
"There was literally no justice for her through the criminal system and she has experienced the emotional impact of being bullied, and then damage to her sense of self," Wishart said Thursday.