Do you recognize these two alleged Surrey bank robbers?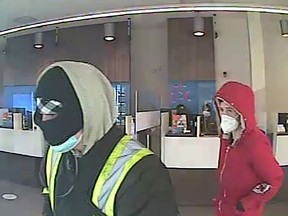 Surrey RCMP is seeking the public's help in identifying two men who robbed a bank in Fleetwood on March 9, 2022. PNG
Mounties are looking for two men who are alleged to have robbed a bank in Surrey.
Surrey RCMP said they received a report of a robbery at a bank in the 15900-block of Fraser Highway just before 4:40 p.m. on March 9.