Festival season returns and new routes from B.C.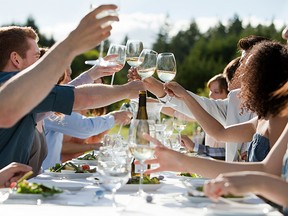 The Okanagan Wine Festival takes place May 5-15. Photo by Getty Images
OKANAGAN WINE FESTIVAL RETURNS
After two years the Spring Okanagan Wine Festival returns and will run from May 5th – 15th throughout the Okanagan Valley. The Festival brings wine lovers from across North America to the Okanagan Valley to celebrate winemaking and experience the unique communities of the Okanagan. More than 70 events will comprise this year's 10-day Festival.
WESTJET BUMPS EUROPE ACCESS
WestJet is reintroducing many of its Europe flights from Canada. The Vancouver route to London, Gatwick will be daily beginning May 1, 2022. They'll also bringing back many flights out of Calgary, including Calgary-Rome (3 per week) starting May 7, Calgary-Paris (5 per week) starting May 14 and Calgary-Dublin (3 per week) beginning May 8.
MALAHAT SKYWALK AN INNOVATION WINNER