FIRST READING: Canada's perennial status as a NATO freeloader is getting awkward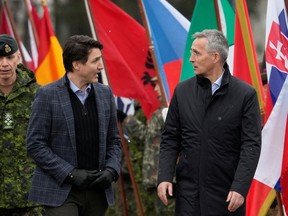 NATO Secretary-General Jens Stoltenberg and Canadian Prime Minister Justin Trudeau interact as they arrive in Adazi, Latvia on March 8, 2022. Photo by REUTERS/Ints Kalnins
First Reading is a daily newsletter keeping you posted on the travails of Canadian politicos, all curated by the National Post's own Tristin Hopper. To get an early version sent direct to your inbox every Monday to Thursday at 6 p.m. ET (and 9 a.m. on Saturdays), sign up here.
On Tuesday, Prime Minister Justin Trudeau continued his tour of Europe to "work closely with allies to strengthen NATO." But even as Canada places 500 troops in Latvia and pledges CF-18s for Romania, there is an elephant in the room whenever Trudeau talks to NATO members about collective security: He happens to represent a country that has spent more than a generation utterly phoning in its NATO commitments.
This used to be pretty common among the non-American members of NATO, but with countries across the alliance now ramping up their military budgets as a direct response to Russia, Canada's cobwebbed armed forces are increasingly an outlier among its Western allies. And even while he jets to European capitals on a tour that was specifically booked to discuss NATO issues, Trudeau has remained noncommittal on plans to boost Canadian defence spending.
This dissonance came up Monday during Trudeau's press conference with U.K. Prime Minister Boris Johnson. Specifically, Johnson was asked whether it was "acceptable" that Canada spent so little while the U.K. was spending 2.4 per cent. Here was Johnson's rather diplomatic response: